The Water Cycle
Improve the Quality and Taste of Water
Dirty Water
Technology
Contaminants
Glossary of Terms
Articles and Independent Studies
Every day, 50 billion gallons of liquid hazardous waste are disposed at 26,000 disposal sites, 85% are located above aquifer. Some chemicals, such as TCE are too toxic; a single gallon can contaminate a year's worth of drinking water for 3800 people.
Over 500 billion pounds of hazardous chemical waste are improperly disposed of every year.
Every year, 100 billon gallons of liquid hazardous waste are absorbed into groundwater supplies.
This much we know... If we put toxic chemicals into or on the ground, they will eventually end up in the groundwater we drink.
Of the 1,000 EPA Priority waste sites in the U.S., less than 20 have been cleaned up since the EPA's inception.
Of the 700 chemicals that have already been found in drinking water, most water companies test for less than 30.
More than 80 percent of diseases are caused by contaminated water supplies1.
1The Big Necessity-by Rose George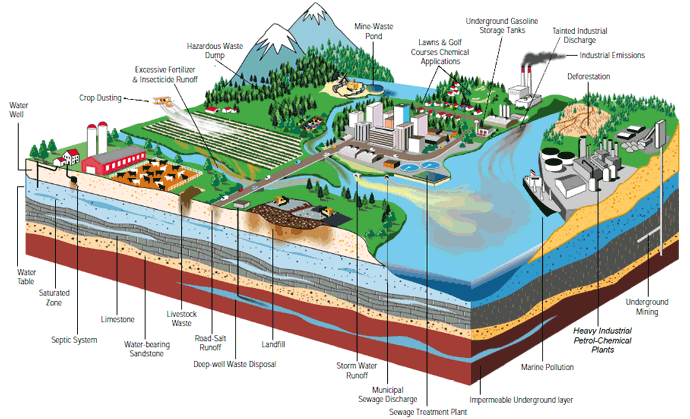 Countries worldwide, Federal, State, and Local authorities will do their best to bring us the best water possible. But, they cannot undo all damage to our water sources that has taken decades of ignorance and abuse to inflict At our manufacturing facility, we have pioneered the advanced design of fluid management products & systems to meet the needs of residential, commercial, and industrial applications worldwide. TWT, Inc. manufacturing expertise is reflected in its efficient engineering design team. Our technical test department is meeting the ever changing requirements of the fluid management environment. Our unique capabilities and design expertise have successfully solved a wide variety of problems for a wide variety of customers. Triangular Wave Technologies, Inc. offers several systems designed to treat and fit your specific needs. These systems improve water quality, save energy, are none chemical, safe and cost effective.